Course details
【All-you-can-drink for 2 hours】 Banquet course 3500 yen (tax included)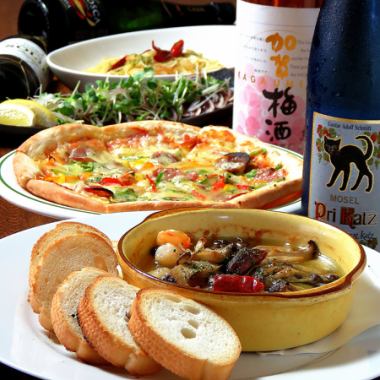 All-you-can-drink available

All-you-can-drink for 2 hours
Available days for reservation

Monday - Sunday - Public holidays - Holidays
Regional gatherings, social gatherings, please use it for anything! We recommend it for welcome farewell party.All-you-can-eat with 2 hours!
Course menu
◇ Caesar salad
◆ fresh fish carpaccio
◇ Shrimp and mushrooms ahijo
◆ Salad and cheese pizza
◇ Assorted fried food
◆ Today's Dead
---------
※ The above is an example.
Menu is OK according to your age and gender ratio.
Please feel free to contact us ♪
* Other courses according to your budget are also available!
All-you-can-drink menu
·Highball
· 【Jim Beam】 High Ball / Cola / Ginger 【Horn】 Strong Carbonated High Ball / Cola / Ginger / Mike Mikan / Sequercer / Yuzu / Apple / Pine / Aloe / Calpis
·beer
· The premium · molts / all free
·Cocktail
· [Gin] Tonic / Back / Fiz / Orange Blossom 【Vodka】 Tonic / Moscow / Screwdriver / Bloody Mary 【Lamb】 Cuba River 【Tequila】 Teconic / Mexicana 【Cassis】 Soda / Orange / Oolong 【Pachet】 Fuzzy Neeble / Peach Oolong 【Malibu】 Milk / Coke / Pine / Kalua Milk
·Cocktail
·Mojito
Divorce
· Lemon Sour / Grapefruit Sour / Calpis Sour / Oolong Break / Green Tea Ceremony / Mike Mikan Break 【Sourwater Sour] Apple / Mango / Aloe 【Princess】 Yuzu / Peach / White Grapes / Kiwi
· Health sour
· [Vinegar Sour] Milking pine / raw milk thigh / turmeric / ginger ale / mint lemon / grapefruit / apple vinegar / honey black vinegar / maca & garlic / white sour / ice tea sour
· Shochu (rock, water split, hot water split)
· 【Wheat】 Wanko 【potato】 Nanko 【Flavor】 Clear (lime) / Acerola / Yuzu / Lychee
·wine
· 【Wine】 Glass red · white / wine splitzer red · white 【wine sour】 red ball punch 【sangria】 red · white
· Fruit wine (rock · water · soda)
· Plum wine / yuzu plum wine / plum plum wine / orange plum wine / orange plum wine produced in Okinawa / Tsugaru apple sake produced in Aomori / white peach sake produced in Fukushima / yuzu produced in Tokushima / matured apricot saw / liquor made from Taiwan / lychee from Taiwan / acerola from South America & Rosehip liquor
·Sake
· Dance of flowers Dry
·Soft drink
· Oolong tea / green tea / cola / ginger ale / yuz squash / peach squash / white grape squash / kiwi squash / orange / grapefruit / pineapple / yuzu yorut / kiwi yogurt / calpis
2019/03/01 update